Paralympic flame visits Weymouth and Portland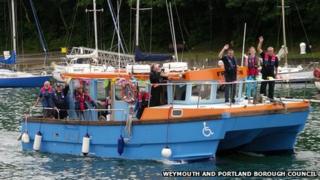 The English Paralympic flame has arrived in Weymouth and Portland for a pre-Paralympics celebration.
The flame arrived at Portland Castle before being taken to Weymouth where it was welcomed by local dignitaries and schoolchildren.
The celebrations are due to culminate with a firework display on Weymouth Beach on Monday evening.
Paralympic sailing events get under way at the National Sailing Academy at Portland from Saturday.
The flame, which is one of four national flames from around the UK, was carried on the MV Freedom boat which has been adapted for use by disabled people.
It arrived in Weymouth, accompanied by a flotilla of other vessels.
BBC reporter Hamish Marshall tweeted there was a "really impressive turnout" to watch the flame come ashore.
Local English flame ambassadors Ian White and David Wallis accompanied it along the promenade.
Kate Wheller, of Weymouth and Portland Borough Council, said: "After the success of the Olympic Games sailing, we are expecting another great show and hope that visitors and residents will really get behind the competitors to give them the support they deserve.
"Their determination and courage is inspiring to everyone."
The four national flames will be united at Stoke Mandeville, the spiritual home of the Paralympic Movement, to create the London 2012 Paralympic Flame.
It will be carried on a 24-hour overnight relay to the opening ceremony of the Paralympic Games in London on Wednesday.