Red Arrows back at airshow where pilot Jon Egging died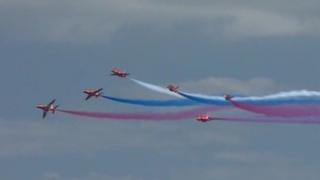 The Red Arrows have returned to the Bournemouth airshow where one of their pilots was killed last year.
Flt Lt Jon Egging, 33, of Rutland, died when his Hawk T1 aircraft crashed in a field following a display at the 2011 Bournemouth Air Festival.
Thousands of people watched from the seafront as the formation of seven planes opened this year's show.
The 20-minute display was the RAF aerobatic team's first performance in the Dorset town since the fatal crash.
'Affected by loss'
Squadron Leader Jim Turner, who pilots Red One, said: "I wasn't on the team when Jon tragically lost his life.
"But having taken over command of the team it's clear to see just how people are affected by his loss and how keen everyone is for us to come back here and display.
"I really get the feeling, the vibe, that everyone in Bournemouth is right behind us."
The 2012 Bournemouth Air Festival runs until Sunday.
On Wednesday, ahead of the show, a sculpture was unveiled on Bournemouth's East Overcliff as a memorial to him.
The 5m-high artwork features three glass Red Arrows planes and stainless steel contrails.
Their design was chosen by the pilot's widow, Dr Emma Egging, following a competition held at Bournemouth schools last year.
Flt Lt Egging, who grew up in Southam, Warwickshire, was killed when his aircraft crashed into a field at the village of Throop, near Bournemouth Airport, on 20 August last year.
Another Red Arrows pilot, Flt Lt Sean Cunningham, died a few weeks later in an accident at RAF Scampton.