Dorset County Show's new pig class in memory of farmer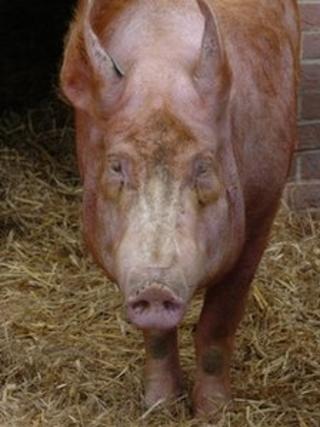 A new pig class has been added to this year's Dorset County Show in memory of a Somerset farmer who died in March.
Nick Hunkin, a Tamworth pig breeder from Haselbury Plucknett, died of a heart attack aged 59.
He was a regular commentator at the show and one of his sows won the title "champion pig" at last year's show.
Organisers said the creation of the Tamworth Cup was a fitting tribute to an "amazing man".
Jenny Norman, pig chairman at the show, said: "He brought pig showing alive for the exhibitors and the public who were watching.
"He knew such a lot about the history of all the breeds and the uses of those different breeds."
'Tremendous impact'
Mr Hunkin first started breeding Tamworth pigs in the early 1980s and Ms Norman described them as "his first love".
She said: "Not having Nick at the show this year will have a tremendous impact and I'm sure there'll be many a tear shed."
A minute's silence was held in memory of Mr Hunkin at the start of the show, which runs until Sunday.
Tamworth pigs are one of the oldest English breeds.
Ms Norman described them as "very distinctive", due to their ginger colouring, and "feisty".