Bournemouth's Winter Gardens £150m plans unveiled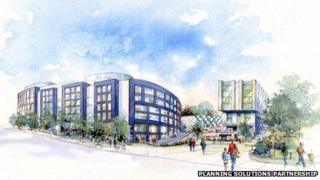 Plans have been unveiled for a £150m redevelopment of Bournemouth's Winter Gardens site.
The plans for the former concert hall site include a cinema, restaurants, a hotel and residential apartments.
Planning Solutions Partnership, which has submitted the planning application for the land on Exeter Road, said no pubs or nightclubs had been included.
The redevelopment of the 5 acre (2 hectare) site would create more than 1,000 jobs, the firm said.
The Winter Gardens, which once hosted the Beatles and the Rolling Stones, closed in 2002 and the building was demolished in 2006.