Sherborne's Barton Farm homes plan approved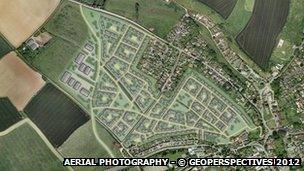 Outline planning permission has been granted to build up to 800 homes on a farm site in Dorset.
Barton Farm, on the outskirts of Sherborne, could be transformed into a new community including housing, business premises and a care home.
West Dorset District Council has a long-term strategy to provide more homes in the area by 2031.
However, opponents believe the plans would change the character of Sherborne and dominate the landscape.
The 13.8ha (33.4 acre) site alongside the A30 has been earmarked for development in the West Dorset local plan.
Previously, local councillors were reluctant to allow development at Barton Farm. But, in 2006, the then government inspector overrode their wishes and included it in the local plan.
West Dorset District Council leader, councillor Robert Gould, is desperate to ensure Sherborne's unique character is preserved.
He said: "The challenge now will be to ensure the conditions imposed on this application are as stringent as possible to mitigate our fears.
"The developers will have to submit a further detailed application in due course and this will be scrutinised closely.
"I will be working hard to ensure that the new draft local plan, that will be adopted in 2013, does not allow this to happen again.
"We want to see the town evolving gradually, as it has done in the past, not swamped by unsuitable new development."
'Exceptionally beautiful'
Katharine Pike, Sherborne Town Council's planning chairman, admits there is anger at the approval of the application.
She said: "We're happy to accept new houses being built here and housing that is affordable, but we have to protect the town as much as we can.
"Sherborne is exceptionally beautiful and should be treasured for future generations."
Resident Sarah Greening, from Long Street, feels the plans could overwhelm the good qualities of the town.
She said: "People are becoming increasingly aware that the things which make Sherborne an attractive place to live are slowly being eroded by over-development.
"It makes no sense to me to build so many houses in one location when there are other sites in the town which could be more suitable."
Related Internet Links
The BBC is not responsible for the content of external sites.