Weymouth powerboat crash: Two injured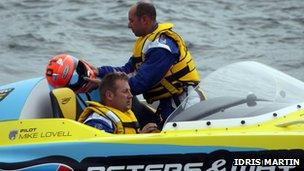 Two men were seriously injured when their powerboat flipped over during a race in Dorset.
Mike Lovell and Dan Whapples, both from Southampton, were thrown from the craft at the national powerboat racing championship in Weymouth Bay, race organisers P1 SuperStock said.
Portland Coastguard said driver Mr Lovell and navigator Mr Whapples had to be rescued from the water near Weymouth Town Beach and the harbour.
They were airlifted to hospital.
Shelley Jory-Leigh, from BBC Radio Solent's H20 show, was commentating at the event and saw what happened.
The former powerboating world champion said: "Unfortunately the boat just got caught up in the wash of the other boats - that's what happens with powerboat racing - and it barrel-rolled.
"The drivers got thrown clear of the boat. It's like a Formula 1 car spinning off."
Ms Jory-Leigh said the safety teams were "absolutely amazing" and divers were in the water "in 30 seconds".
The men were flown to Southampton General Hospital.
Ms Jory-Leigh said the powerboat racers are not "strapped in" but know the dangers of the sport and "love the adrenaline".
"I just hope that the guys are all right and they will be back fighting strong with us," she said.
A coastguard spokesman said Mr Lovell and Mr Whapples were recovered from the water and quickly transferred to hospital.
They were thrown out of the boat in the second lap of the last race as hundreds of people watched from the pier.
He said: "The casualties were recovered from the water to enable a quick transfer to hospital.
"The most severely injured casualty was taken aboard the Weymouth RNLI lifeboat and winched by the Portland Coastguard Rescue Helicopter to fly onwards to Southampton General Hospital.
"The second casualty was transferred to Southampton General Hospital by the Dorset and Somerset Air Ambulance Helimed 10."
A report has been made to the Marine Accident Investigation Branch.
Related Internet Links
The BBC is not responsible for the content of external sites.