Swanage Blues Festival facing uncertain future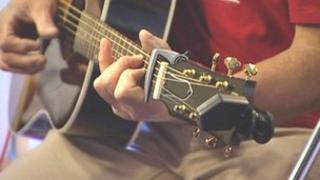 Twice a year, thousands of blues music fans head to the Dorset seaside town of Swanage as it transforms itself into a mini New Orleans.
But this autumn, the Swanage Blues Festival faces an uncertain future.
The not for profit three-day event, held in October and March, does not have an admission fee. Since 2001, it has been funded by bucket collections in its 14 pub venues.
It was founded by musician, Steve Darrington after he held a blues-themed birthday party in the town, and now brings in about 2,000 music fans each day.
"Costs are rising and pubs everywhere are struggling to make ends meet," Mr Darrington said.
"Health and safety regulations insist we have risk assessments, volunteers have to sign formal agreements, and I have been unable to get insurance cover to continue collections in the pubs.
'Financial disaster'
"Volunteers are people who don't want all that, they just want to help out."
Mr Darrington, 63, hopes to solve the problem for the autumn festival with contributions of £10 made in return for a wristband.
He said: "The collections from fans usually cover 30% of the costs, venues make up 65% and local businesses 5%."
"It would be such a shame, and a financial disaster locally, if everything had to end."
The festival is estimated to bring in £500,000 to the local economy each year.
"People plan their holidays to come. It's a huge party. You just wander from place to place and sample the music," he said.
Having overcome polio aged six and a childhood in a wheelchair, Mr Darrington taught himself piano and the harmonica and went on to tour for 35 years as a professional musician.
He has played piano for many American blues artists including Lonnie Donegan, Marty Wilde, the Everly Brothers. He even had Mark Knopfler in his 1970s band, Brewer's Droop before Dire Straits.
The festival features 40 gigs of acoustic and electric blues-based music. Acts include the Mustangs, the Robin Bibi Band and Sonny Black.