Wimborne Folk Festival 'could be revived'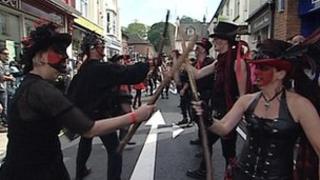 The annual Wimborne Folk Festival, which ended this year due to financial problems, could be revived.
A spokesman for East Dorset council said a group of 45 people from Wimborne had attended a meeting to discuss how to bring the festival back.
The summer folk festival in Dorset was first held in 1980 and regularly attracted crowds of up to 30,000.
However, founder Maria Bisp said the £35,000 event was proving increasingly difficult to raise money for.
The volunteer-run event was held over three days in the centre of the market town, with street dancing and live music.
A council spokesman said: "A number of ideas were put forward - but the general consensus was that they wanted a festival to continue with a view to developing a more family-friendly, community-based, voluntary-led festival.
"All agreed it should be a self-funding event and to continue with folk and arts at its roots, to have a greater emphasis on engaging residents, young people and local businesses."
The council said another meeting would be scheduled to discuss plans further.