Bovington Tank Museum's Tiger tank reunited with plaque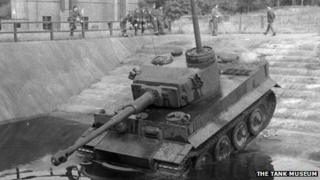 A plaque that was "pinched" from inside a Tiger tank at a Dorset military museum has been returned after more than 40 years.
The plaque, entitled "Bedienungsleiting für Turmabdichtung", gives instructions for the German tank's complete immersion in water.
It was returned to the Bovington Tank Museum with an anonymous note from a former soldier.
He explained he "bought it off one of the lads" in the late 1960s.
'Extremely grateful'
The letter read: "I was a member of the Junior Leaders Regiment RAC [which was based opposite the museum and trained school-leavers before they joined the Army] and remembered obtaining an instruction plaque from inside Tiger 131.
"Recently whilst clearing my loft I found the plaque.
"I collected cap badges and memorabilia whilst I was at Bovington and I bought this off one of the lads."
The letter went on to explain that whoever took the plaque "got into the tank as the top hatch grill had been left off", and concluded, "I hope you can re-install this item from where it came, or at least use it to understand how the waterproofing was carried out."
Tiger tanks were introduced in 1942 and designed to cross water with the addition of a long snorkel.
Tiger 131 is the only fully functioning Tiger I in existence.
Chris Copson, the museum's education officer, said: "Whoever this donor is we are extremely grateful for his thought and kindness in returning it to us and can assure him that the plaque will soon be back in its rightful place."