Beatles Bournemouth recording kept in biscuit tin for 30 years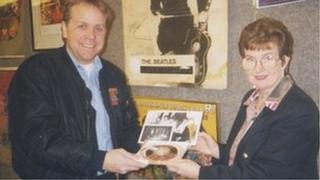 On the 50th anniversary of the release of The Beatles' first single, Love Me Do, BBC News looks at the story of a rare recording which spent 30 years in a biscuit tin.
It all started in Irene Draper's sitting room in 1962 when the Fab Four came on to the TV. Irene's father, Tom Mellor, was chief technician at the Gaumont Theatre in Westover Road, Bournemouth.
Mr Mellor said to her: "Oh no, we've got them coming to us in August next year. I don't know what idiot booked them because they're coming to us at prime time."
"He wasn't pleased at all," Irene recalled.
August 1963 came around. It was a Bank Holiday weekend, and Mr Mellor had worked through the night setting up for the Beatles' six-night residency at the theatre.
Irene said her father recorded all the groups who played at the theatre onto high-quality tape as its domed ceiling produced "acoustics that were second to none".
'Dynamic'
Irene, then 16-years-old, lived with her parents and younger brother and worked at the local department store Bobby's.
She said: "Dad came across to the store and said, 'you'd better come across to the theatre later Irene. Your grandad has died.
"You can have your dinner in the restaurant and then join me for the shows on the sound desk'."
"My dad had put my mum and my brother on a plane to Manchester," Irene explained.
She spent the rest of the week watching the Beatles twice nightly, an experience that was "the beginning of one of the most amazing weeks of my life - it was dynamic".
During a concert on 21 August, her father recorded the band's 10-song set, capturing the Beatles' jokey repartee with the audience.
"It's pre-Beatlemania, you can hear everything," Irene said. "Paul did a lot of the talking and John was just a clown, he clowned around on stage, he was so funny."
Her father took the tape home and it never went back to the theatre. It was put away in a biscuit tin and forgotten about.
Beatlemania
In 1994 her father found the tape and played it to Irene over the phone.
Recalling its contents, she said: "Paul introduced their new song, She Loves You. We heard it on the Wednesday and it was released on the Friday."
The Beatles were back in town in November at Bournemouth's Winter Gardens. She Loves You had rocketed up the charts and Beatlemania was under way.
"Outside of Liverpool, they performed more live shows in Bournemouth than anywhere else," Irene said.
After fruitless attempts to make contact with chief executive of the band's record label Apple, Neil Aspinall, the family decided to auction the tape at Christies in London.
"I got a telephone call from Neil Aspinall the day before the auction," said Irene. "[Beatles drummer] Ringo [Starr] had seen me being interviewed on Sky TV. I had to explain what I was doing was on my dad's behalf.
"Neil said, 'I'm just going to have to send someone round to the auction room'."
The tape sold in December 1998 for £25,300 to an anonymous buyer - believed to be Apple.
"From then on my greatest hope and desire was please, please, please... release it," said Irene. But the precious recording remains unreleased.