Bournemouth West Central £50m leisure complex approved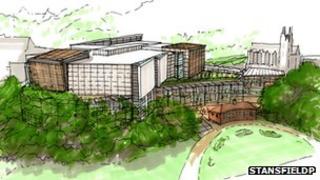 Work can begin on a proposed £50m leisure complex in Bournemouth after councillors agreed minor changes to the plans.
Developer Licet Holdings Ltd hopes to create 300 jobs at the West Central cinema and entertainment venue close to the town's Lower Gardens and seafront.
Unanimous approval was given to allow the development to include part of a town centre car park.
Work is expected to begin in the new year and be completed by autumn 2014.
Planning permission was originally granted in 2007 and renewed last year.
The development will be delivered by Licet Holdings Ltd and NCP who are finalising agreements with restaurants and a cinema operator.
'Momentum snowballing'
Licet director Chris Dymond was "delighted" an amendment had been approved to include the NCP-owned Exeter Road car park.
He said: "Now the revised design has been sanctioned, the paperwork can be finalised and the momentum is snowballing.
"It will be great to get started and bring a new all-weather family facility to the town centre."
An underground car park and dining areas will be included in the five-storey building.
Two similar cinema complex schemes for Bournemouth are also currently proposed.
A planned £150m revamp of the Winter Gardens site was announced earlier this month, while developer Trevor Osbourne has also expressed a desire to build a similar complex near the Pavilion Theatre.