Boscombe's 60 rehab centres revealed at conference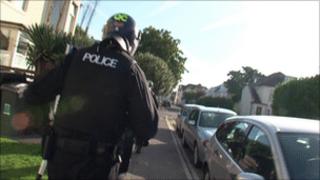 The Dorset town of Boscombe has 60 drug and alcohol rehabilitation facilities, the council has revealed.
The total was revealed at a meeting held by Bournemouth Council, Dorset Police and the probation service to tackle the town's drug issues.
Bournemouth Borough Council's Sue Bickler said: "We will do all we can to reduce this concentration of services."
Councils and South West prisons are able to send addicts to the town for treatment because of its facilities.
The high number of services has led to an increase in non-local residents to the town with drug and alcohol problems, the council said.
Problems addressed
Mrs Bickler said the council would "work to ensure that provision focuses on local need only".
She added: "We will make use of all the powers available to us."
The meeting was attended by the Boscombe Regeneration Partnership which includes Bournemouth Council, Dorset Police, the probation service and Bournemouth 2026.
The council revealed some of the rehab facilities were managed well "whilst others were causing concern".
A number of actions to improve the services, to be led by the council, were agreed including working with the landlords of 29 private residential properties providing support for people with addiction issues.
The council also plans to inspect services and ensure any offering treatment for addictions is properly registered with the Care Quality Commission.
It is expected to take three years to complete the planned changes.