Dorchester college bus crash investigations continue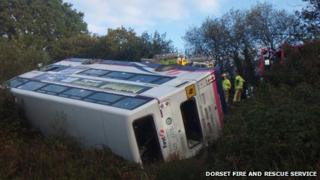 Police are continuing to investigate what caused a bus carrying 56 college students to crash and roll into a field in Dorset.
Seven students from Kingston Maurward College in Dorchester and the driver were taken to hospital after the crash on the A350 near Poole on Monday.
All were later discharged following treatment at Poole General Hospital.
Operator First is yet to speak to the driver, who was said to be "in shock" after the crash.
Dorset Police, First and Kingston Maurward College are working closely to understand how the crash occurred.
The bus had been travelling from Kinson in Bournemouth to Dorchester when the crash happened near the village of Limberlost at 08:15 BST.
First is continuing its own investigation and confirmed the driver was being monitored on the route at the time of the crash as part of "standard process" of learning a new route.
A spokesperson said: "The investigation into the cause of the incident is ongoing, with the full facts surrounding it still being collated.
"This process is expected to take some time."
'Traumatic experience'
First added their operation of the route continued as normal on Monday afternoon.
Kingston Maurward principal Clare Davison confirmed all students were safely at home and recovering from their injuries by Monday evening.
Thirty-one students were injured in the crash.
She said: "We would like to say a huge thank you to the emergency services who have been outstanding in their help and support to our students during what has undoubtedly been a very traumatic experience.
"We are also very proud of the way the way our students reacted during the incident as the police have told me they remained as calm as possible."
The college has also set up a hotline for parents and carers to contact and is also offering additional support to the students involved.