Dorset landslip deaths: Beaminster Tunnel hood supported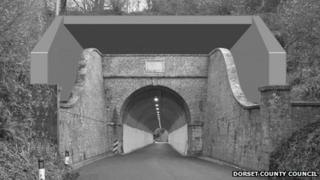 A concrete hood is emerging as the public's preferred option for repairing a road tunnel in Dorset where two people were killed in a landslip.
Rosemary Snell and Michael Rolfe, from Somerset, died when their car was buried at Beaminster Tunnel in July.
An extension over the entrance was endorsed by those attending a public meeting in Beaminster.
Councillor Rebecca Knox said there was an "overwhelming desire" to see the road re-opened as quickly as possible.
The meeting heard details about five possible solutions being considered to deal with the tunnel.
Other options include stabilising the slope above the tunnel and taking the road around or above the existing tunnel.
An engineers' report on the options, and further geological studies, will be submitted to Dorset County Council's cabinet for a decision on 7 November.
Mrs Knox, ward member for Beaminster on Dorset County Council, said she hoped the planning process would be as quick as possible and allow work to start around the new year.
It is thought the concrete hood option would take about six months to complete and could cost up to £1.75m.
Mrs Knox had previously called for the "quickest and safest option" option to be chosen.
She said: "There is concern about how the closure is affecting the rural economy of the town - access is the priority."
The meeting heard that Dorset County Council had committed to prioritising the minor roads which are being used as diversion routes when it comes to winter gritting.
Ms Snell, 67, and Mr Rolfe, 72, went missing on 7 July but it was not until nine days later that Avon and Somerset Police alerted colleagues in Dorset the couple had been traced to the Beaminster area.