Beaminster Tunnel: No Department for Transport funding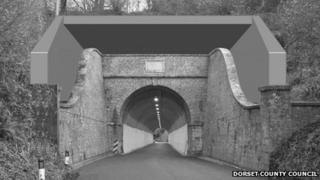 The Department for Transport (DfT) has refused to fund any of the estimated £2.1m repair works to a Dorset tunnel where two people died in a landslip.
Rosemary Snell and Michael Rolfe, from Somerset, died when their car was buried at Beaminster Tunnel in July.
Dorset County Council approached the DfT for a special grant for the "urgent and unusual highways issue".
Transport Minister Norman Baker said it would be "unfair to national taxpayers" for the DfT to provide the extra cash.
Mr Baker said the DfT was providing more than £44m in highways maintenance funding to Dorset County Council over the spending review period to 2014/15.
In addition, he said the council had also been allocated "an exceptional one-off payment" of more than £2.7m in March last year to deal with damage caused to roads by "severe winter weather" in 2010.
"It is, therefore, for Dorset to decide how to allocate these funds," he said.
Engineers are focusing on two possible options for the tunnel - stabilising the slope or extending the tunnel.
A permanent concrete hood extension to the tunnel, which would preserve the existing tunnel portal and side walls on the approaches to the entrances, emerged as the public's preferred option at a public meeting in Beaminster on 18 October.
The original five options also included removing the tunnel and building a cutting, and bypassing the tunnel.
An engineers' report on the options, and further geological studies, will be submitted to Dorset County Council's cabinet for a decision on 7 November.
Ms Snell, 67, and Mr Rolfe, 72, went missing on 7 July but it was not until nine days later that Avon and Somerset Police alerted colleagues in Dorset that the couple had been traced to the Beaminster area.