Whale carcass found on Rope Lake Head, Purbeck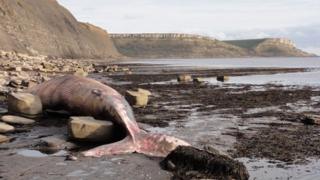 The body of a 13.6m (44.6ft) whale has been found washed up on a Dorset beach.
Specialists believe the animal found on Rope Lake Head, in Purbeck, could be a juvenile fin whale - the second largest species of whale in the world.
If correct, this will be the first recorded fin whale reported dead or alive in Dorset.
There does not appear to be any obvious signs of how it died. Samples from the mammal carcass have been sent to the Natural History Museum for analysis.
Dorset Wildlife Trust's marine conservation officer, Emma Rance, said: "The position of the whale has made it difficult to identify as its head, blow hole and dorsal fin are hidden but I am certain it's a male baleen (filter feeding) whale and I believe it could be a rare fin whale juvenile Balaenoptera physalus."
Adults of this endangered animal can reach lengths of 27m (88ft).
Ms Rance added: "Identity will be certain once the Natural History Museum Strandings Unit have taken skin and blubber samples. These can also show its age, health, cause of death and any pollution encountered at sea."
"Whilst it is a sad sight and there doesn't appear to be any obvious signs of how it died, it is always interesting to have the chance to see such giants."
The trust warned that whales can carry transmissible diseases and so people should keep their distance from the carcass.
They are also classed as 'Royal Fish' and property of the Crown. Under the Wildlife and Countryside Act 1981, it is illegal to possess any part of the animal except under licence.