Beaminster Tunnel: Soil pinning approved after couple's deaths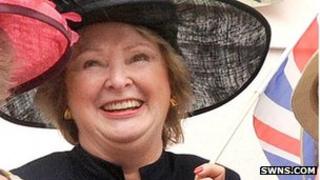 Soil will be stabilised at the site of a road tunnel in Dorset where two people were killed in a landslip, the county council has agreed.
Rosemary Snell and Michael Rolfe, from Somerset, died when their car was buried at Beaminster Tunnel in July.
The estimated £2.1m repair work was one of two options being considered - the other was a concrete hood extension.
The work is subject to planning permission but is expected to start at the beginning of January.
An engineers' report, presented to the cabinet on Wednesday, said soil pinning would stabilise slopes and "reduce the likelihood of future slips".
A permanent concrete hood extension, which would have cost an estimated £1.8m, emerged as the public's preferred option at a public meeting in Beaminster on 18 October.
However, there was concern the hood extension would not withstand a major landslip and any debris falling on to the road as a result of smaller landslides would still need to be cleared.
Councillor Rebecca Knox, ward member for Beaminster on Dorset County Council, said: "The issue now is speed and getting the tunnel open as quickly as possible."
Beaminster business owner Claire Feasey, of Green Drawers, said she was closing her shop at the end of the year partly because of the tunnel closure.
"You just don't get the through traffic anymore from Somerset - it doesn't enable people to come in to the town," she said.
Richard Barker, manager of Cilla and Camilla @home and a member of Beaminster and District Business Chamber, disagreed and said overall there had been "no detrimental affect to the town".
"Business for many has been really strong and the town is very much thriving and open for business," he said.
Grant refused
Preparation work at the site is likely to start at the beginning of December.
The repair works, which are expected to start on 1 January, will take an estimated 20 weeks to complete and have a life expectancy of 120 years.
The original five options for the site also included removing the tunnel and building a cutting, and bypassing the tunnel.
Dorset County Council approached the Department for Transport for a special grant towards the cost of the repair work but this has been turned down.
Transport Minister Norman Baker said the council had already received £44m in highways maintenance funding over the spending review period to 2014/15.
In addition, he said the council had also been allocated more than £2.7m in March last year to deal with damage caused to roads by "severe winter weather" in 2010.
Ms Snell, 67, and Mr Rolfe, 72, went missing on 7 July but it was not until nine days later that Avon and Somerset Police alerted colleagues in Dorset that the couple had been traced to the Beaminster area.