Royal Bournemouth Hospital fails to spend £1.7m charity cash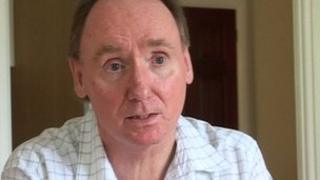 Fundraisers have criticised a Dorset hospital for taking more than three years to use the money they raised for a new cancer and women's centre.
Bournemouth Hospital's Jigsaw Appeal raised most of its £1.88m by 2009.
Cancer patient and fundraiser Robert Cork said it was wrong the money had not been spent.
The hospital said it had not been able to spend the cash because it was awaiting a decision on the location of a new in-patient haematology service.
A merger of the Royal Bournemouth and Poole hospitals inpatient haematology service began in 2010 and is now in its "final stages".
The hospital aims to put in a planning application for the new centre, which is expected to cost at least £3m, by March next year.
'It's wrong'
The two-storey building, which will also be partly funded by the NHS, will provide care for the hospital's blood cancer patients, including those with leukaemia.
It will also have a specialist women's unit which will include gynaecology and breast care.
The Jigsaw Appeal's total has subsequently reduced to £1.68m.
Mr Cork, who has advanced leukaemia and raised £5,000 for the appeal, said it was "very unlikely" he would now benefit from the centre.
He said: "I think it's wrong that money from six years ago could be tied up for so long and not be spent."
Shirley Sherman, who has also raised money for the appeal, said: "It doesn't seem to add up that so many times the executives at the hospital announced that it [the new centre] was imminent and so many times it's just drifted out."
A spokesman for the hospital said it was grateful for the charitable support.
He said: "The board of directors is frustrated by and regrets the delay but the funds are available and it is determined to spend them wisely."
Once approved the centre is expected to take 12 months to build.