Poole harbour roads need 'urgent action plan' say councillors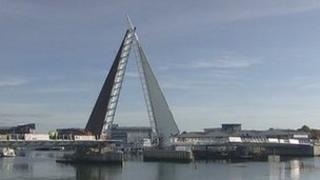 An "urgent action plan" has been recommended by councillors for a Dorset road system, following concerns over the safety of pedestrians and cyclists.
A select committee has formulated nine recommendations for Poole's one-way system around the harbour bridges.
These include removing the scheme's "gyratory" element as part of any future regeneration in the town.
The road layout on Marston Road and Bay Hog Lane had been described as dangerous by a consultant's report.
'Serious consideration'
The report suggested replacing the system with two-way roads, and providing more crossings and signs.
The committee said it recognised the council's achievement in delivering the Twin Sails Bridge scheme, which opened to traffic in December 2011, but said it felt the public had "real safety concerns" about the traffic system, which needed "serious consideration".
It also supported the report's recommendations to "enhance" ways in which the council's planning and transportation services work together in the future.
The two-day meeting on Wednesday and Thursday heard from the authors of the report, senior council officers and residents.
Councillor Brian Clements, chairman of the economy overview and scrutiny committee, Borough of Poole, said: "Councillors have welcomed the opportunity to really examine the important issues around this scheme and would like to thank everyone who contributed to our review and for the constructive way in which ideas were shared."
The committee's nine recommendations will be published in detail during the week beginning 26 November and will then go to full council for approval.