Kyle Rees inquest: Boy hit by hockey ball at school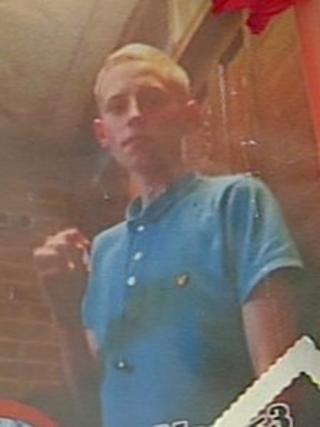 A 16-year-old Dorset schoolboy died after being hit by an indoor hockey practice ball thrown by another pupil, an inquest jury has heard.
Kyle Rees was struck on the head in the playground of Portchester School in Bournemouth on 27 February. He died the following day from head injuries.
Members of the jury were shown CCTV footage of two groups of children throwing balls before Kyle was hit.
One pupil described it as a "ball fight" but said it was playful.
The footage from the school's 38 CCTV cameras also showed a blue plastic chair being held up. It did not capture the moment Kyle was struck.
Kyle's mother Tanya Cooper said in court she did not believe the ball had been thrown on purpose.
Bournemouth Coroners' Court heard the pupils started by throwing tennis balls, but the coroner confirmed it was an indoor hockey practice ball which had hit Kyle.
Difficulty breathing
It had earlier been reported the ball was an indoor practice cricket ball.
In a police statement, evidence from a pupil was read out - the boy said he picked up a harder ball and threw it.
He said he did not intend to hit anyone but Kyle moved and the ball caught his head.
The inquest was told most of the pupils had been sent back inside the school by teachers at this point.
Members of the jury heard Kyle seemed uninjured at first, but then had difficulty breathing.
He was taken to Bournemouth Hospital and then transferred to Southampton General Hospital in a critical condition. He died there later.
Ms Cooper told the jury her son was "very caring, very lively, with a good large group of friends".
Speaking of the boy who threw the ball, she said: "I feel so bad for him.
"Not for one second did we think he did this on purpose."
The mother of the boy who threw the ball also gave evidence and said her son had been devastated by what had happened.
The inquest is expected to last three days and will also hear from teachers at the school, which is now known as Harewood College.