Kyle Rees: Mother's grief at ball death of son, 16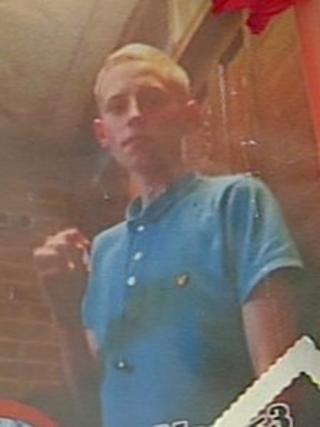 The mother of a Dorset schoolboy who died after being hit by a hockey ball believes better management of events before he was struck could have prevented his death.
Kyle Rees, 16, was hit by an indoor hockey ball at Portchester School, Bournemouth on 27 February.
Tanya Cooper said teachers should have removed the tennis balls which pupils had also been throwing.
The school has since banned pupils from bringing in small balls.
An inquest concluded the incident at the school, now known as Harewood College, was a "tragic accident".
Bournemouth Coroners' Court heard most of the pupils had been sent back inside the school by teachers when a pupil picked up an indoor hockey practice ball and threw it.
A narrative verdict from the inquest at Bournemouth Coroners' Court recorded that the friend "did not intend to harm Kyle or anybody".
Kyle was initially taken to Bournemouth Hospital and then transferred to Southampton General Hospital in a critical condition. He died there the following day from head injuries.
Speaking of the three-day inquest into her son's death Ms Cooper, who described her son as "a very special young man", said she was still in shock.
She added she had never blamed the boy who threw the ball.
'Very special'
"It's the lead up to it that I feel could have been prevented," she said.
She said she felt the school had failed because her son had not returned home.
"If we have no choice but to send our children to school, then I do feel that the teachers have a responsibility to treat each child in that school as their own," she said.
Following the hearing Debbie Godfrey-Phaure, the executive headteacher of Avonbourne Trust which runs the school, said: "The school takes its duty of care towards our children very seriously and always will.
"This was an awful tragic event and I want to reassure Kyle's mum and dad that staff who personally knew him were with him all the time.
"No one ever left his side right up to when he was taken into hospital and his mum could be there. We were there talking to him and holding his hand."
Ms Cooper said she appreciated the "love and tenderness" her son had been shown but she also felt she had failed as a parent.
"You try to protect your child and I haven't," she said.
She described life without Kyle as a "jigsaw puzzle with a very, very detailed and important part of it missing forever".
"We're never going to be complete again," she added.
A memorial bench for Kyle has now been installed at Harewood College and the school's annual promise-in-sport award has been renamed the Kyle Rees Award.
A fund-raising scheme set up by five students at the school, selling "4 Kyle" wristbands in his memory has also raised £4,000 for Southampton General Hospital, where he was treated.