West Dorset District Council to take 'highest bid' for Stratton House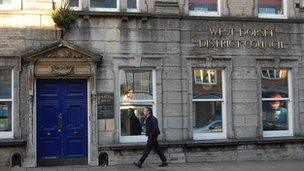 Councillors have decided to sell Dorset council's old office site to the highest bidder after it failed to sell for its £3.5m target.
West Dorset District Council is moving from Dorchester's Stratton House to new £9.7m premises on Charles Street.
The council would not disclose any bids it had received for the old offices.
However, it said the sale would still save £200,000 per year due to a £1.8m reduction in the construction and maintenance costs of the new offices.
Selling the site to the current highest bidder was one of five preferred options discussed by councillors earlier.
The authority said each option would save more than £150,000 per year. It originally claimed the move would generate an annual saving of £224,000.
Other options for the site included removing it from the market and waiting until the market recovers, or developing the site before re-marketing it.
Unoccupied, the annual running costs for the site were estimated at £120,000 per year, over the next five years.
The council, which is expected to start moving into its new offices on Friday, said the Stratton House site, which includes Grade I and II listed buildings, was unfit for purpose and expensive to run and maintain.
Phase one of the Charles Street development, which includes the council offices, a library and an adult learning centre, began in June 2011.
There had been concerns the £60m plans for phase two, which were approved in 2010 and had been due to include a hotel and an underground public car park, were "not financially viable".
The authority has since agreed to fund £2m of preparatory work, which includes relocating a church from Acland Road to Trinity Street.
Revised proposals for 24 flats in place of the hotel have also been approved by councillors.
The amount of underground parking will now be reduced, with equivalent spaces created elsewhere in the town.
Related Internet Links
The BBC is not responsible for the content of external sites.