£37m Poole Twin Sails Bridge 'glitches' defended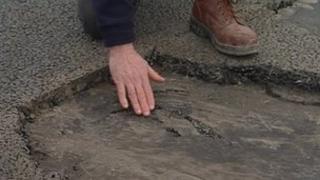 Poole Borough Council says the town's Twin Sails Bridge is something to be proud of, despite its early problems.
The lifting bridge linking Poole port and Hamworthy finally opened in April after being beset by delays and unexpected closures.
A Freedom of Information Act request by the BBC found the £37m structure closed 38 times in its first six months.
The council has defended contractor Hochtief (UK) for their part in fixing the bridge's deficiencies.
The bridge was originally due to open on 27 February, but had to remain closed during its official opening by The Princess Royal on 12 March.
A series of what were described as "small glitches" delayed the opening. Emergency resurfacing work had to take place when sections of the road fell off as the bridge was raised.
Other problems have included reduced hydraulic pressure, software issues and loss of power to the lifting system.
The sound of the bridge's lifting sirens also had to be lowered following complaints.
'Performance issues'
Poole Borough Council's engineering manager John Rice insists the "glitches" have been handled professionally by contractors and sub-contractors.
He said: "Many of the things that have occurred are performance issues and have involved going back to the suppliers.
"Any large engineering project experiences deficiencies, but these ones have been rectified at no cost to the taxpayer. This is completely in line with the terms of Hochtief's original contract.
"Overall, fewer than 2% of scheduled lifts have been affected by the disruption."
Mark Howell, leader of Poole People Party, hopes the bridge has got through its "teething problems".
He said: "Initial problems now appear to have been rectified and we're in a monitoring phase.
"It's important the council addresses what happens in the long term and budgets for any unexpected repairs and maintenance in the future.
"We also have to make sure we get the best out of the contractors during the first year they are obliged to fix any problems and benefit from their expertise going forward."
Hochtief (UK) was unavailable for comment.