Omar Benguit murder case sent to appeal court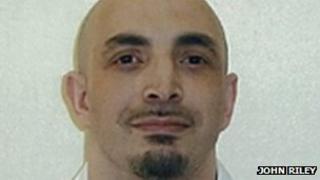 The case of a man jailed for murdering a Korean student is being sent back to the Court of Appeal over fears a double-murderer carried out the crime.
Omar Benguit, from Bournemouth, Dorset, was jailed in January 2005 for the murder of Jong-Ok Shin in 2002.
Part of Benguit's case is based on the possibility another man, Danilo Restivo, carried out the murder.
Another reason is that a witness later appeared on a chatshow and appeared to contradict her trial evidence.
Among the evidence examined by the Criminal Cases Review Commission was footage from the Jeremy Kyle show in 2008.
A woman told the ITV show that she saw Benguit plunge a knife in to the student but had previously testified that she had only heard a struggle and had seen his clothes covered in blood.
Restivo was jailed in 2011 for the murder of Heather Barnett in November 2002.
Mrs Barnett's mutilated body was found in her Bournemouth home by her two children. She had been bludgeoned with a hammer before having her throat cut.
'Alternative suspect'
Mr Benguit appealed against his conviction but his appeal was dismissed in July 2005.
He applied to the CCRC for a review of his conviction in May 2010.
The commission, which reviews possible miscarriages of justice, said the evidence focussed principally on Danile Restivo being a suspect.
In a statement, it said: "The commission has been following several lines of inquiry in relation to our review of Mr Benguit's conviction.
"Those lines also include the fact that a witness from the trial later appeared in an episode of the Jeremy Kyle Show to give an account of her involvement in the case.
"That is one of the many issues we will be considering as part of our review, but it is too early to say what implications, if any, it may have for the case."