Durdle Door beach steps removed in responsibility row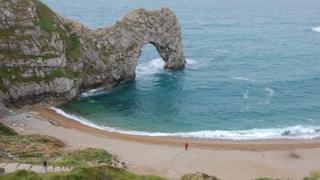 Steps leading to a Dorset beach have been removed amid a row about who is responsible for maintaining them.
Lulworth Estate, which owns Durdle Door, claims the Marine and Coastal Access Act 2009 prevents it from carrying out the work.
It says the steps now fall into the area around the coastal paths which are Natural England's responsibility.
Natural England insists the steps are not part of the coastal path it maintains and belong to the estate.
'Sad news'
Lulworth Estate has in past years "assumed responsibility" for the annual landslip repairs to the steps.
"While safe access to the beaches is still possible it is unlikely to be as convenient as before," said James Weld from the estate.
A spokesperson for Natural England said: "The legislation does not take land away from landowners or interfere with their freedom to manage it.
"The estate has always maintained the steps down onto the beach and remains able to do so now."
Dorset County Council said it was willing to assist Lulworth Estate with the repairs as it had done in previous years.
Robert Westwood from Jurassic Coast Walking, which offers walking holidays in Dorset, said it was "very sad news" the steps had been removed but did not think it would deter visitors.
"There's always lots of people there, particularly dog walkers - I guess they'll just find an alternative route down, but this does raise safety issues," he said.
Lulworth Estate said it had been spending up to £45,000 a year on managing and maintaining a 6km (3 mile) stretch of coast from White Nothe to Lulworth Cove, which includes Durdle Door.