Christchurch and East Dorset councils plan to share headquarters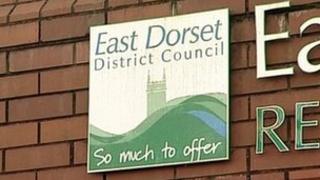 The headquarters of two Dorset councils are to be combined as part of measures to reduce spending.
Christchurch and East Dorset authorities have agreed to move most staff to offices in Christchurch.
East Dorset plans to sell its Furzehill offices and build a smaller "public service hub" in Wimborne.
David McIntosh, the councils' joint chief executive, said the plan "makes sense both economically and in terms of efficiency."
The sharing of buildings is estimated to save £7m over 25 years.
Mr McIntosh said: "The pressure on future spending and the shift of financial risks from central to local government means that we need to look at further ways to reduce costs.
"The cost of our two main buildings is increasing as they age."
He said a "handful of site-specific" jobs would be lost when the Furzehill site closes.
The new centre in Wimborne, which would incorporate customer services and a council chamber, would be built on the site of the Allendale Community Centre.
A detailed study is due to be carried about before any move, which is likely in three years time.