Lytchett Minster School helped by Olympic equipment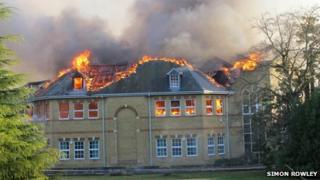 Equipment used during the Olympics is set to benefit a Dorset school wrecked by fire.
The creative arts block at Lytchett Minster Upper School, near Poole, was destroyed in a blaze on 27 December.
Sections of temporary accommodation from various London 2012 Olympic venues will be brought to the school to be rebuilt as classrooms.
Head teacher Stuart Clark said he was "delighted" by the accommodation which was arranged by the schools insurers.
Mr Clark said: "We are focused absolutely on maintaining the highest possible standards of education for our students despite the circumstances and this will help us immensely to achieve that."
The 1,330-pupil school re-opened on 9 January but year groups are taking it in turns to miss lessons because the loss of the arts and theatre block has left the school with a shortage of classrooms.
The new buildings will enable the school to resume its normal timetable while the creative arts block is rebuilt.
The fire is believed to have been started by a lightning strike.
In 2000 an arson attack destroyed half of the school. It fully reopened in 2009 after a £12m rebuild.