Poole lifeboat centre set to create 90 RNLI jobs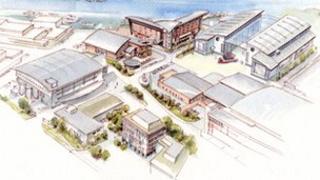 A multi-million pound centre to bring a charity's all-weather lifeboat production in-house will create 90 jobs.
The £11.2m facility will be built at the RNLI's Poole headquarters in West Quay Road - but the charity still needs to raise £5.2m.
It will save an estimated £3.7m a year and "revolutionise" the lifeboat construction and maintenance programme.
The RNLI said lifeboat building on the Isle of Wight would not be affected.
Some production works will move from Lymington by 2019, with staff being offered jobs at the Poole site.
Paul Boissier, RNLI chief executive, said: "We have extended our apprenticeships scheme from four to six per year to help ensure a bank of skilled people for the new jobs that will be generated in Poole.
"We'll be helping to keep boatbuilding and manufacturing skills alive in the British workforce for many years to come."
The site is to be cleared and raised to comply with flood defence requirements after being approved by Borough of Poole councillors.
Lifeboat maintenance has moved across the water from the site to Cobbs Quay at Holes Bay until the new facility is up and running.