Weymouth harbour wall: Warning over repair noise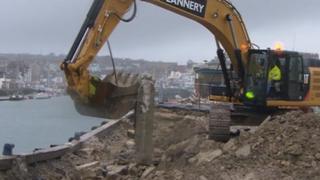 The latest phase of a £4m harbour repair in Dorset will increase noise levels, contractors have warned.
Fifteen-metre long steel tubes are being hammered into the seabed to form foundations for Weymouth harbour wall.
Council officials warn noise from the repair works could be heard across the town in some conditions.
Gill Taylor, of the borough council, said: "It's going to be very, very noisy."
Deep cracks beneath the waterline led to parts of the 80-year-old harbour wall collapsing in 2012.
'Noisy operation'
The steel tubes, along with steel sheets, are being driven into the seabed using a large impact hammer.
Mark Stanyon, of contractors Balfour Beattie, said: "It's a noisy operation. Everyone has done all they can to minimise the noise."
The work is being carried out during daytime, Monday to Saturday, until March.
Ms Taylor said: "I just hope residents will bear with us as we have to get this work done.
"The work is incredibly important - both economically and for tourism."
Condor Ferries, which sails from Dorset to the Channel Islands, is currently leaving from Poole because the Weymouth berth is out of action.
The berth was declared unsafe in February 2012 and remedial works proved unsuccessful.
The work is expected to be completed by June, with the ferry company hoping to move back the following month.