Dorset disrupted by further snowy spells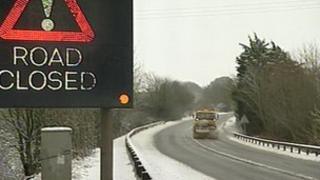 Ice and a fresh fall of snow overnight has caused further disruption in West and North Dorset.
Dorset Police said motorists faced treacherous travel conditions with flooding from melting snow and ice.
Several roads were closed including the A35 at Bloxworth, the A37 at Warden Hill and the A352 between Dorchester and Sherborne.
The weather continues to disrupt schools with several forced to close or partially close.
Affecting business
The Met Office has amber warnings in place with temperatures of -1C and up to 10cm (4in) of snow possible.
Bus operator Damory was operating a reduced service due to the icy conditions.
The adverse weather has also badly affected businesses, keeping shoppers away.
Fiona Turner, owner of White Feather women's clothes shop in Sherborne said: "There isn't a soul about, but you have to open because it's what's expected of you.
"If just one person comes and you're not open it could affect future business - they might not try your door again."
'Motorists rescued'
Vanessa O'Grady, 32, a beauty therapist who works from home in Sherborne, said she hoped the snow would "disappear as quickly as it arrived".
She added: "It's just so restrictive because you just can't go very far."
During the rush hour on Tuesday, three motorists had to be rescued from their vehicles by firefighters on the A351 at Corfe Castle.
Rescue teams led two of the drivers to safety, another was rescued by boat.
Also on Tuesday evening Elly Waller, 33, from Sherborne, described some areas of the town as "like Dancing on Ice but in cars".
Pippa Saunders, 33, from Closworth on the border of Dorset and Somerset, said: "I had barely finished telling my daughter to say goodbye to her snowmen before a new layer of snow started to envelop them.
"I thought a five-day-old snowman was good going but I think they will grow older yet."
The Highways Agency said gritters were out in force round the clock across the county.
Bournemouth International Airport said it remained open for business.