Swanage steam railway's station revamped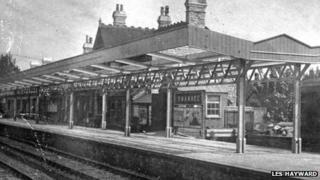 A £150,000 refurbishment of a Victorian steam railway station has begun in Dorset.
The work at Swanage station is being funded by Swanage Railway Trust and is expected to take 12 weeks.
The station is being repainted and its 1930s canopy is being restored, which includes replacing 350 glass panes.
The line, from Swanage to Corfe Castle and Wareham, was closed by British Rail in 1972 but was reopened as a heritage railway.
'Architecturally important'
The station's original canopy was built in 1885. The current 254ft long (77.5m) canopy was completed by Southern Railway Company in 1938.
Liz Sellen, chair of the trust, said the project represented a "once-in-a-lifetime makeover" for the station canopy.
She said: "We are investing in an important piece of Swanage Railway infrastructure and the future of an architecturally important building in the centre of Swanage."
Some restoration work was carried out on the station's canopy in the late 1970s. The latest work is expected to last for about 50 years.
Swanage Railway, which is based at Swanage station, was rebuilt over 35 years by volunteers and ran its first passenger train from Wareham to Swanage in 2009.
The heritage line is currently closed for winter maintenance. Daily running begins on 25 March.