Pay hike for Dorset Chief Constable role sparks concern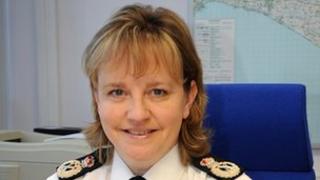 A decision to pay the new Dorset Police Chief Constable £10,000 more than her predecessor has sparked concern among police and crime panel members.
Debbie Simpson, whose appointment was approved by the panel earlier, will receive a salary of £146,000.
Police and crime commissioner Martyn Underhill defended the move, saying it was a "one-off" and necessary to attract candidates.
Ms Simpson was unanimously selected from four candidates who applied.
The panel also voted to increase the council tax policing precept by 1.95%.
Mr Underhill said: "We are the worst funded force from government in the country. We have lost 6% of our staff this year.
"Our force has been hardest hit in the country with regard to government cuts. We need this precept increase."
The increase equates to £183.51 for a Band D property, a rise of £3.51 on the current year.
'Quite happy'
Debbie Simpson is the only candidate who did not also apply for other roles.
Some police and crime panel members raised concerns about the salary hike at a meeting in which Ms Simpson's appointment was unanimously approved earlier.
Calls were made for Mr Underhill to explain how he could justify the rise at a time when the force is battling to save millions due to government spending cuts.
Mr Underhill said: "If I hadn't raised that wage, taking us above the bar, I don't think we would have had four candidates, therefore I'm quite happy with that decision. It is a one-off increase.
"I had to get the right pool of people, that's why I did it. I'm comfortable with that and I will defend it."
Police and crime commissioners have powers to either increase or cut a chief constable's salary by up to 10% - but only if making a new appointment.
Ms Simpson replaces Martin Baker who stepped down in September after almost eight years.
She was appointed acting Chief Constable in October and has 28 years of policing experience.