Bournemouth Imax demolition to start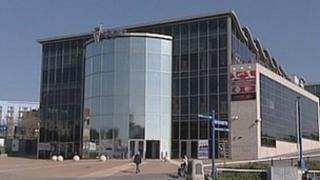 The demolition of the exterior of a "hated" Imax cinema in Bournemouth will begin on Friday.
Work to dismantle the inside of the Waterfront building near the pier began in October.
The cinema was opened in 2002, nearly three years behind schedule, but then closed just three years later.
After attracting complaints that it blocked views of the sea it was voted one of the UK's most hated buildings in 2005 on the programme Demolition.
Bournemouth Borough Council Leader, John Beesley, will be at the site to watch the first section of glass on the outside of the building being destroyed on Friday.
The site of the venue, which is expected to be cleared by the end of March, will become a new outdoor events space which is expected to open in the summer.
The council said a programme of events would be announced in the spring.
The progress of the demolition can be seen on the council's website.