Native American totem pole auctioned in Dorchester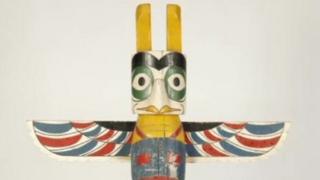 A Native American totem pole has sold for £19,000 at auction in Dorset.
The pole, which belonged to the owner's great grandfather, had been left forgotten in the back hallway of a farmhouse.
It was bought by UK-based dealer Spencer Swaffer, who said: "It is the first totem pole I have ever bought."
Auctioneer Guy Schwinge described the pole, which features an eagle with outspread wings, a beaver, a bear, and a whale, as "a really striking object".
According to Dukes Auctioneers in Dorchester, similar totem poles have sold for more than £100,000.
'Bright and cheerful'
Mr Schwinge said: "The owner's great grandfather had travelled extensively in Canada and the USA in the 1920s.
"We took it for research and found that it dates from the very late 19th or early 20th Century and was probably made by the Haida, of British Columbia, Canada."
Mr Swaffer said: "It was the brightness and cheerfulness of the totem pole that captured my imagination.
"The opportunity to buy something of this nature in the UK, and even in America, is so rare that I just had to seize the chance to own something so magnificent."
The auction house said it was sold to Mr Swaffer for £19,000 plus buyers' fees, despite having had a lot of interest from collectors around the world.