Bournemouth Imax demolition 'on target'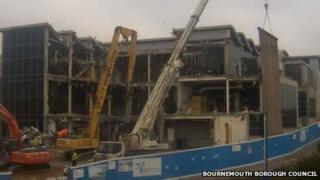 The demolition of an "ugly" building on Bournemouth's seafront is on course to be finished by the end of March.
The four-storey concrete and glass Imax cinema was built 15 years ago.
Preparation work to dismantle the structure, voted one of the UK's most hated buildings, and restore the sea views began in October.
Feedback from a Bournemouth Borough Council consultation showed that "virtually everyone" thought the building was "ugly".
After closing for a revamp in 2005 it never reopened and one-by-one the other businesses in the complex also closed.
In 2010 the council bought the leasehold. A spokesman said work to begin landscaping the site was "on target" to begin in April.
It will become a new outdoor events space which is expected to open in the summer.
The progress of the demolition, which will see 3,000 tonnes of steel and 8,000 tonnes of concrete removed, can be seen on the council's website.