Problem tenants on a troubled Weymouth estate face eviction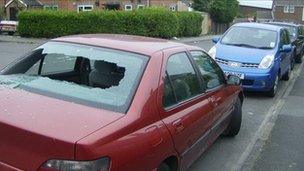 Troublemakers living in an area plagued by crime and anti-social behaviour face eviction after housing officials launched a series of legal actions.
Synergy Housing, which owns homes on Weymouth's Littlemoor estate, is tackling problem families through the courts under the Housing Act 1996.
Tenants causing significant trouble are given up to 48 hours' notice to leave.
It follows a string of crimes including an arson attack on the estate in which a woman suffered burns.
Christine Wallis, anti-social behaviour officer for Synergy Housing, told residents at a public meeting in Littlemoor on Wednesday: "We have now commenced legal action on a number of families within the Littlemoor area.
"We will be pursuing it through the courts".
Now police, firefighters, councillors, youth groups and other agencies are urging people to work together to tackle the problems.
Extra CCTV cameras have been installed and police have stepped up patrols.
One youth has been handed an anti-social behaviour order and seven more are subject to Acceptable Behaviour Contracts.
Insp Les Fry urged people to ensure they report crimes and other problems.
He added: "A number of people have been allowed to exist and carry on their criminal activities on this estate.
"They have carried on that behaviour for a number of years. That's no longer going to be acceptable behaviour."
Police now have powers to take any young person in the area aged under 16 home between 21:00 GMT and 06:00 GMT if they are in public and involved in or thought to be at risk from anti-social behaviour.
They can also disperse groups of two or more people if they believe they are going to cause trouble.