Bournemouth Spur Road rebuild 'essential'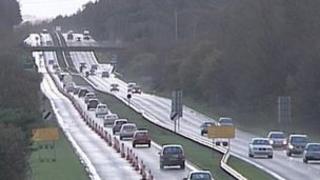 A bid to rebuild one of Dorset's busiest roads is "essential", business groups have said.
Dorset County Council says repairing the A338 Bournemouth Spur Road is no longer cost effective.
It has applied for about £20m from the government's £170m Pinch Point Fund. The road serves Bournemouth Airport, Christchurch, Poole and Bournemouth.
Bournemouth Chamber of Trade described the current dual carriageway as "20 years past its safe use-by date".
The project would rebuild a 5.5 miles (9km) stretch from the Ashley Heath interchange to the Blackwater junction which carries 56,000 vehicles a day.
Miles Butler, the county council's director for environment, said: "It will be a major piece of engineering work and it will cause some disruption, but it is better to have disruption in one year, rather than having maintenance on that every year for the foreseeable future."
Nigel Hedges, from the chamber of trade, said: "Certainly for the business life of the three town, the rebuild would be an essential artery."
A previous bid for £20m funding for repair works on the A338 was turned down by the government in 2011.
The Pinch Point Fund was created in the Chancellor's Autumn Statement to make £170m available to remove bottlenecks on the road network.
The Department for Transport said 170 bids had so far been received for Pinch Point funding.
If the A338 bid is successful, the project must be completed within two years.