Jade Clark hit-and-run death: Police trace Volvo XC90 owners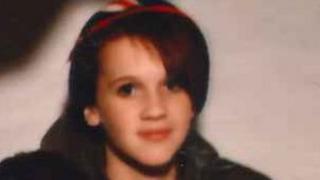 Police hunting a hit-and-run driver thought to have killed a 16-year-old girl in Dorset are visiting all the UK's registered keepers of Volvo XC90s.
Jade Clark died when her moped was involved in a collision on the A31 at Ringwood at 20:23 GMT on 24 February.
Detectives believe she was struck by light coloured Volvo XC90 registered between 2003 and 2007.
The driver fled the scene and has not yet been found. Two rewards, totalling £5,000, have been put up.
Police said "a number of vehicles" were involved but they believe the Volvo struck the moped first.
They said the vehicle they were looking for would have a number plate with 52, 03, 53, 04, 54, 05, 55, 06, 56, 07 or 57 in it, or a personalised registration.
So far officers have visited more than 300 XC90 keepers.
'Someone knows'
Det Insp Marcus Hester said: "If you own or use such a Volvo XC90 we will be coming to visit you.
"If you know anything about where this car is or who may have been driving it, please call us.
"I am appealing to the public to search their conscience - someone clearly knows where this Volvo is.
"Do you know a neighbour, friend or colleague who uses an XC90? Has it suddenly disappeared?
"Or have you noticed a change in someone who drives an XC90? Have they become stressed or been off work sick?"
Police believe the car would have suffered front-end damage in the collision.
They have urged anyone who works in a body repair shop or vehicle spares or car breaker yard and has had an inquiry to repair or find parts for a damaged XC90 to contact police.
The Crimestoppers charity is offering a £1,000 reward for information leading to the Volvo driver being charged. Local firm Churchill Retirement Living is offering £4,000.
Meanwhile relatives and friends released dozens of balloons in tribute to teenager Jade at Carvers Recreation Ground in Ringwood on Saturday.
A post-mortem examination showed Jade died from severe head injuries after being hit by a number of vehicles.
Her mother Sharon Clark said she was "a wonderful daughter, step-daughter, sister, granddaughter and friend".
She said: "Jade was such a lovely girl. Losing her has left a hole in our hearts and our lives that we'll never fill."
The teenager was also a member of Hampshire Fire and Rescue's youth organisation, the Young Firefighters' Association.