Cold weather in Dorset sparks warning to motorists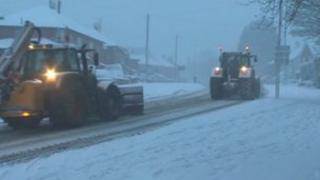 Motorists in Dorset are being warned they could continue to face disruption due to snow and freezing temperatures.
The Met Office issued a yellow weather warning across parts of east Dorset, predicting biting north winds and the possibility of lying snow.
High-speed Condor Ferries crossings between Poole and Guernsey were cancelled due to the weather.
Schools were open as usual on Monday. Dorset County Council said the situation was being monitored.
Senior meteorologist Julian Mayes of Meteogroup said the freezing temperatures forecast to accompany the snow could make this the coldest weather of the winter season.
In January heavy snowfall caused widespread disruption in Dorset and other parts of the country with schools closed, train services cancelled and treacherous driving conditions.