Dorset Police Chief Constable says volunteers 'vital'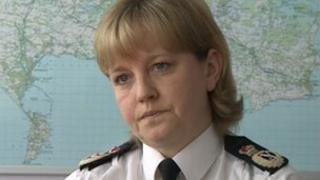 Dorset's police chief says more volunteers and special constables can strengthen her force's community links.
Chief Constable Debbie Simpson wants to capitalise on the impetus volunteers created at the 2012 Olympic sailing and windsurfing events in Weymouth.
Dorset Police Federation is concerned the move could undermine public faith and perception of the force.
Police and Crime Commissioner Martyn Underhill has pledged to increase the number of special constables.
Ms Simpson believes special constables, who volunteer their time to the service, have the potential to play a wider-reaching role.
She said: "It's a balance we have to explore. Policing within the special constabulary part of our business has become much more professional over recent years.
"Special constables receive lots of training and are capable of doing a great deal more than was the case 10 years ago.
"I'd like to see them used in all sorts of policing, not just at fetes and in some of the more mundane tasks.
"There will still be need for sustained numbers of full-time officers, but special constables can bring in new skills we haven't already got or don't have enough of."
Ms Simpson is also keen to tap in to the strength of local volunteers, stressing they would not replace the work of police constables, but add to and support it.
Dorset Police Federation chairman Clive Chamberlain said: "The answer is not to get people to come in and work for nothing, but to create a proper resourced force that meets the demands.
"I appreciate this comes against a backdrop of massive cuts in funding, but if these ideas were suggested at any other time, they would be laughed at."