Man arrested after Poole HSBC armed bank robbery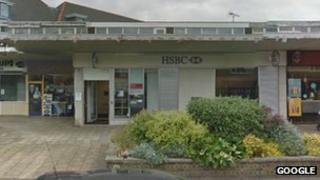 A man has been arrested after a robber armed with a gun was chased by a passer-by from a bank in Dorset.
A raider entered the HSBC bank in Lower Blandford Road in Broadstone, Poole, at about 09:40 BST, pointing a black handgun and demanding cash.
Police said he fled on foot before getting into a red vehicle.
A witness said it looked like he had a bag of money, and as he was chased away, he pointed the gun at the man pursuing him while shouting at him.
Dorset Police said armed police, a helicopter and dog units assisted and a man in his mid 20s was arrested at an address on Commercial Road.
They said nobody was hurt in the robbery.
Det Insp Pete Little said: "Inquiries are still ongoing to locate other possible suspects."
Car towed away
Shopkeeper Andrew Smallpiece of Broadstone Cobbler, next door to the bank, said: "I saw a guy walking across the road towards the bank with a hoodie on and a scarf on his face.
"I thought it looked suspicious but you don't expect anything like that to happen.
"The next thing I know the guy is pointing a gun in the bank, it looked like he already had a bag of money.
"I saw him run off and someone started chasing him. The gunman was shouting at him and pointing the gun at him."
Part of Commercial Road was later sealed off and a car was towed away by police from a nearby block of flats.