Nuclear submarine accident exercise in Portland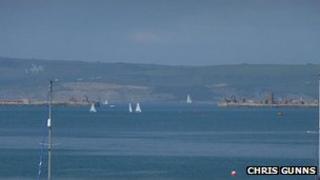 An exercise is taking place in Dorset to test the emergency response to an accident involving a nuclear submarine.
The simulation is being held around Portland Port, one of the locations authorised to accommodate nuclear-powered vessels in the UK.
Royal Navy, police, coastguard, council and health service personnel are all involved in the exercise which is held every three years.
Residents have been sent leaflets and told there is no cause for alarm.
More emergency service vehicles and personnel than usual are likely to be seen around the area.
The exercise, with a command centre in Poundbury, Dorchester, will test their response to the scenario of a radioactive leak from a submarine with a damaged nuclear reactor core.
Cdr Mark Prince of the Royal Navy said he was "exceptionally confident" the contingency plans would never have to be used in reality.
"I can't emphasise enough just how unlikely an incident is to occur. What we have to do is make sure we have adequate protection measures in place for the public," he said.