Bournemouth tourist signs to cost £86,000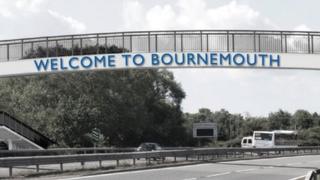 Two signs welcoming visitors to Bournemouth and wishing them a safe journey will cost £86,000.
The Dorset town's Conservative-led council said the illuminated signs on the Spur Road footbridge would "enhance the sense of arrival for visitors".
Opposition councillors said the cost was "outrageous" at a time when the council was cutting services.
The signs on the footbridge on the A338, near Holdenhurst village, will be erected in July.
'Absolutely appalled'
"Bournemouth has a thriving tourism economy with millions travelling along the A338 each year to enter the borough," said tourism cabinet member Rod Cooper, of Bournemouth Borough Council.
"The bridge provides the opportunity to act as a welcoming gateway to our town."
Labour councillor Ben Grower said the cost was "outrageous" and said the money "could have been given to Bournemouth's food banks", or used to help save a disability service which was closed down due to council budget cuts.
Bournemouth's Liberal Democrat leader, Carole Ainge, said she was "absolutely appalled" at the cost.
"People know they are coming into Bournemouth so it's pointless putting it up," she said.
She added maintaining the sign afterwards would amount to more than £86,000.
The council said the cost included the design and production of the letters, installation and power supply.