Reece James murder trial: Killing at 'point blank range'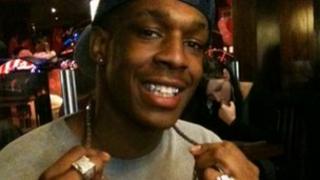 A man was gunned down at point blank range in a planned attack as his friend slept, a court has heard.
Reece James, 21, from London was killed with a sawn-off shotgun at the flat where he was staying in Bournemouth.
A post-mortem examination revealed Mr James, also known as "Stylez", died from a single gunshot wound to the head in July 2012.
Terri Campbell, Kieron Wellington, Wayne Stephenson, Jarome Parkinson and Keifer Hutchinson all deny murder.
A jury at Winchester Crown Court heard Mr Hutchinson, 23, Mr Stephenson, 34, and Mr Parkinson, 25, drove in an Audi A3 from south east London to the Boscombe area of Bournemouth in search of Mr James, in the early hours of 25 July.
Miss Campbell, 23, and boyfriend Mr Wellington, 30, both of Durley Gardens, Bournemouth, gave them directions to the Roumelia Lane flat where Mr James was staying via mobile phone calls and messages, the court heard.
Death 'virtually instantaneous'
Prosecutor Timothy Mousley QC said: "They went in, they shot Reece James and killed him with one shot.
"Death was virtually instantaneous."
CCTV played in court showed Mr Hutchinson, Mr Stephenson and Mr Parkinson leaving the flats at about 02:19 BST.
The court heard Mr James, previously named as Reece James Menzies, was found dead by friend Tyrone Downer who told police he was asleep in the flat when the shooting happened.
The jury was told he was woken by the gunshot and got up to discover Mr James slumped on the floor in the living room having been shot.
He called 999 and police arrived shortly before 02:30 BST.
Paramedics also attended but Mr James died at the scene.
The court heard a firearms expert concluded the gunshot was likely to have been fired at the end of the passage leading to the lounge.
Mr Mousley said of the expert's findings: "He concluded that Reece James would have collapsed where he was shot and the weapon had been either in contact or nearly in contact with his cheek, and the weapon used was a short barrelled, sawn-off 12-gauge shot gun."
Experts who later searched the flat found a large quantity of herbal cannabis and drug paraphernalia.
Mr Stephenson, from East Dulwich, London, Mr Hutchinson, from Peckham, London, and Mr Parkinson, of Folkestone, Kent, were arrested on 21 August and later charged.
Miss Campbell and Mr Wellington were arrested in Westbourne in September and later charged.
Mr Mousley said: "It's the last three, Hutchinson, Stephenson and Parkinson who actually carried out the killing but we say that all five defendants are guilty of murder because effectively there was a plan between them all."
The trial continues.