Eastern Lyme Regis coastal protection work begins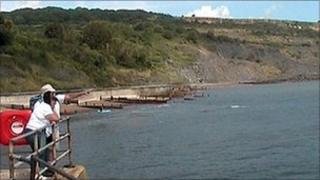 Work to protect nearly 500 homes from coastal erosion over the next 50 years is under way in Dorset.
A 390m (1,200ft) stretch of sea wall is being built in the eastern part of Lyme Regis.
The £19m project also includes stabilising the slopes at Church Cliff and East Cliff.
West Dorset District Council said the work would help to protect homes at risk of destruction, damage or loss of access.
The authority said the work would also safeguard Charmouth Road and Church Street as well as utility pipes and cables.
'Increased probability'
The sea wall will replace existing groyne structures on the seashore and the stabilisation of the slopes includes soil-nailing and drainage works.
Rosalind Price, owner and resident of Bramcote Apartments on East Cliff, said: "We're delighted the work is taking place as it directly affects our home and business."
She added although the property had not been affected by landslips since 2001 when she moved there, recent heavy rainfall had "increased the probability of it happening in the future".
The latest phase of protection work is being paid for with £14.6m of government funding, £4.27m from Dorset County Council and £600,000 from West Dorset District Council.
The construction work is expected to be completed by April next year.
Engineering works have already been carried out to protect central and western parts of the town, including the construction of a new promenade.
Nine chalets overlooking Monmouth Beach in the town were demolished following a landslip in January.
In May 2008, about 400m (1,300ft) of cliff slipped between Lyme Regis and Charmouth, exposing an old landfill site.
About 12 miles away 22-year-old Charlotte Blackman, of Heanor, Derbyshire, died when a 160ft (50m) high cliff at Burton Bradstock collapsed, in July last year.