Dorchester's Brewery Square main square opens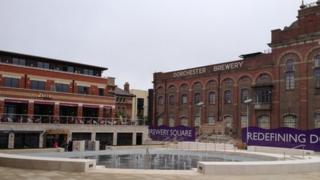 The main square of a £100m regeneration project in Dorset has opened after a six-month delay.
A cinema, hotel, restaurants and shops have already opened at Brewery Square in Dorchester.
The development's main square was scheduled to open in October last year but was delayed due to the wet and windy weather of the summer.
Three more restaurants and a cafe are to open at the site between Thursday and Saturday creating about 130 jobs.
The main square of the development, which is housed within the site of the old Eldridge Pope brewery, features a 37-jet fountain and a big screen television which will be used to show short films and major sporting events.
'Great asset'
The next phase of the project includes the conversion of the 130-year-old former brewery building into a 4-star hotel and spa.
A 440-seat theatre is also planned along with the construction of 136 apartments.
George Davie, 62, who has been a market trader in the town for 32 years said there were already shops "standing empty" in the current shopping area.
"If you separate a town like this you end up with a town that doesn't exist," he said.
But James Hagon, from Broadmayne, said the project was a "great asset" to the town.
The 19-year-old has applied for a job at one of development's new restaurants.
"Dorchester has been in need of something like this for a long time - most young people struggle to find a job here," he said.
Phase one of the scheme, which is now complete, included the construction of a new health centre, shops and apartments.
The Eldridge Pope brewery closed in 2003.