Twin Sails Bridge 'has 100 defects'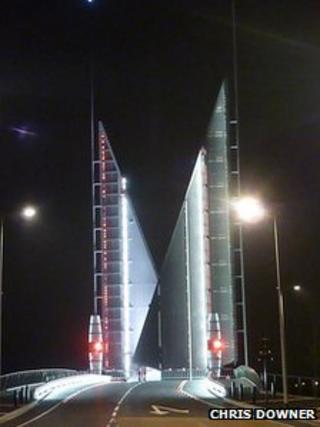 A £37m bridge dogged by problems since it opened a year ago still has about 100 defects, the council has said.
The Twin Sails Bridge, linking Poole Harbour with Hamworthy, opened to traffic two months late last April.
It has already undergone a number of repairs but still has leaks, peeling paint, cracks, loose bolts, as well as issues with its shock absorbers.
Poole council said many of the defects were minor and they were being fixed by contractors at no cost to the public.
At a full council meeting on Tuesday, Councillor Xena Dion said if she had bought the lifting bridge she would have "taken it back by now".
She later claimed she was merely being flippant.
Councillor Mark Howell, leader of the Poole People party, said: "This remark indicates that Councillor Dion and the Conservative administration have little appreciation of the concern that the people of Poole have about the future maintenance and repair costs of the bridge."
Warranty expired
Councillor Mike Brooke, leader of the Liberal Democrat group, said it was an interesting remark for Mrs Dion to make.
But he added: "I think one has to take into account it is a unique design and like many engineering projects there are teething problems.
"I think they [the council] have done everything they possible could."
The one-year warranty has expired but the authority said the main contractor has agreed to carry out most of the repairs over the next three months.
Mrs Dion said the repairs would be carried out with minimum impact on the public.
John McBride, chief executive of Poole council, said: "The majority of these [issues] are very minor works, for example painting and waste removal.
"The issues... are understandably frustrating for both residents and members and this frustration was expressed by Councillor Dion."
A Freedom of Information Act request by the BBC previously found the structure closed 38 times in its first six months of opening.
Shortly after its official opening, emergency resurfacing work had to take place when sections of the road fell off as the bridge was raised.