Weymouth Anzac service: Wreath laid for Gallipoli fallen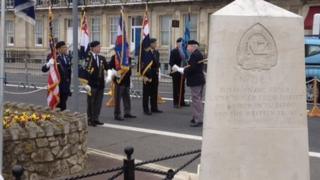 A wreath has been laid in a Dorset town in recognition of Australian and New Zealand Army Corps (Anzac) Day.
The memorial service took place on Weymouth Seafront at the Anzac Memorial which commemorates thousands of volunteer servicemen who passed through camps and hospitals in Dorset.
The Mayor of Weymouth & Portland and representatives from the Australian and New Zealand High Commission attended.
Anzac day marks the anniversary of the 1915 WWI landings at Gallipoli.
Nearly 11,500 Australian and New Zealand troops died during the eight months before being withdrawn.
Thousands of Australian and New Zealand volunteers came through Dorset during the war between battles in the Middle East and those on the Western Front in Europe.
The memorial was unveiled in 2005 and is situated opposite the Russell Hotel, which was used as a hospital by Anzac servicemen.
Weymouth & Portland Borough Council's head of tourism and events Matt Ryan said it wanted to recognise the sacrifice those involved in the campaign.