Six people in Poole Harbour in stranded yacht rescue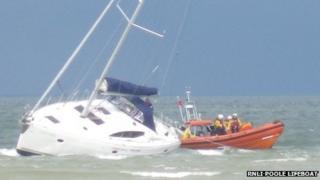 Six people had to be taken to safety in a lifeboat when their yacht ran aground off the Dorset coast.
The 44ft (13m) vessel had a crew of nine when it hit trouble on the notorious Hook Sands near the entrance of Poole Harbour, the RNLI said.
Two lifeboats were launched just before 16:00 BST on Saturday with six people taken to shore.
The remaining crew members stayed on board and waited for high tide to refloat the yacht.
Poole RNLI volunteer coxswain Jonathan Clark said: "There were unpredictable squally showers coming through and the boat was lying on its side, so it was best to bring the six people ashore.
"The skipper and the two people left on the yacht stayed in contact with Portland Coastguard and were happy to sit and wait for the tide."