Sherborne pays tribute to Andrew Simpson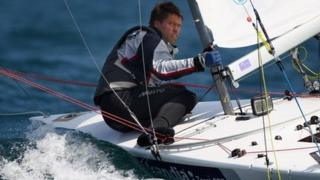 The death of British sailor Andrew Simpson has left his Dorset hometown in shock, its mayor has said.
The Olympic gold-medallist, who lived in Sherborne, died when his catamaran flipped over during training for the America's Cup in San Francisco Bay.
Mayor of Sherborne Peter Rhodes said the 36-year-old was an "approachable hero" and an inspiration to the town's youngsters.
A book of condolence has been opened at Sherborne Abbey.
Mr Rhodes said he last spoke to Mr Simpson after he had been granted the freedom of Sherborne.
"He said to me, 'I'm really looking forward to going to America, I want to go there and I want to help win the America's Cup.'
"I just wished him all the best, not knowing the tragic result."
'Loved by everyone'
Nicknamed Bart, Mr Simpson lived in a terraced house close to the centre of the town, with his wife and their two young children.
Great Britain shooting gold medallist Peter Wilson who also lives in Sherborne, said the pair of Olympians had formed a bond since the Games
He said: "We had shared this incredible Olympic journey - most people don't really know what you're going through, but Andrew did.
"He was such a wonderful father and he was loved by everyone - he was just such a good man."
The Reverend Canon Eric Woods said: "He was one of the heroes of the town."
A tearful Lily Pullen who works on the check out at Sainsbury's in Sherborne said: "I only served him just last week or so ago, he's lovely.
"It's such awful news and they've not long had a baby."
Mr Simpson represented Great Britain at two Olympic Games, sailing in the Star class alongside Iain Percy, his Artemis team boss.
The pair took gold at the Beijing 2008 Games and were close at London 2012 to topping the podium once more, only to claim silver in the medal race.
The family had temporarily moved to San Francisco so he could focus on training for the America's Cup.